Really good pragmatic language lesson plans are hard to find. Finding activities that are appropriate for preschoolers students is even more challenging. I can help! Today, I want to tell you about a super simple, no-prep activity you can use with your preschool students working on pragmatic language. You won't need any worksheets or manipulatives, but you WILL need the book No, David! by David Shannon.
Disclosure: Some of the links in this post are affiliate links. This means that, at zero cost to you, I will earn an affiliate commission if you click through the link and finalize a purchase. All thoughts and recommendations are my own.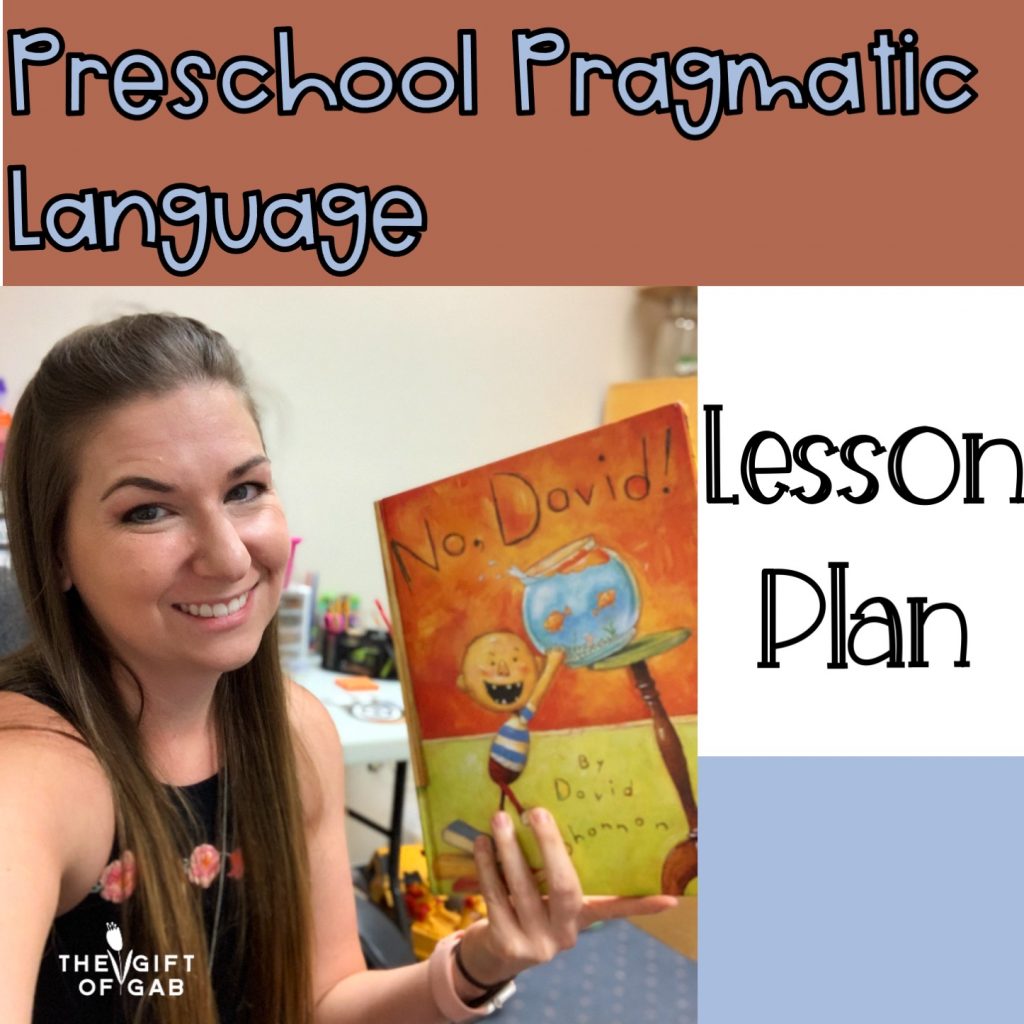 Using Books To Teach Social Communication Skills
Breaking down the complicated layers of social communication is hard. You can't really drill this skill-you have to teach it using case-by-case examples, which can be really hard to think up on the fly. One of my favorite ways to teach social communication skills to preschoolers is by using books. Unfortunately not every book will work for such an enormous task.
I like to use books that have strong characters, an obvious problem, and pictures that do a good job of showing nonverbal communication. That means series like the "Old Lady Who Swallowed A…." and "If You Give A Mouse…" are not great for teaching social skills. This is because it is all a list of one thing after another. Those books have no plot and the characters don't really have a lot of obvious thoughts or emotions. However, books like The Paper Bag Princess and Jabari Jumps are great for teaching social skills.
Now let's get on to the meat of this post. I am going to share with you how I use the book No, David! to teach the pragmatic language skills of taking perspectives and identifying the feelings of others. This activity is perfect for preschool, but it would also be great for older kids.
Why I like this book for teaching pragmatic language skills.
This book makes the perfect lesson plan for teaching pragmatic language skills to preschoolers. This is because there is simple text, great pictures, and numerous inferencing opportunities. Additionally, each page gives the student a trial opportunity. By the end of the story, the child has had around 15 opportunities to answer the same two questions: 1.) What is David thinking? 2.) How does the mom feel? Those kinds of organic repetitions for a pragmatic language session are practically unheard of!
Why do I ask those two questions?
Question #1: What is David thinking?
By asking this question, you are prompting your student to take the perspective of David. Be careful your student isn't just describing the picture. Instead, prompt your student by saying 'What is David thinking in his head?', then give the additional verbal prompt "I want ______" to help the student understand the phrase should start with "I" because we are pretending to be thinking like David.
Question #2: How does the mom feel?
The focus of this question is emotional literacy + perspective taking. Mostly, the mom probably feels angry (I mean, David makes a lot of messes). However, she also might feel worried, disgusted, annoyed, or frustrated. Most of our students get stuck using basic emotions like happy, sad, and mad, so, I love books that give opportunities to talk about complex emotions.
How to Do This Pragmatic Language Lesson
Get the book. On each page ask the two target questions.
"What is David thinking?"
"How does the mom feel?"
Read and review the story a few until your student becomes more accurate!
That's it! Super simple, right? These are the kinds of sessions that I adore doing because they flow so well and are also super productive! If this idea totally jives with you, I also love to use the book Wonder by RJ Palacio to teach similar skills to older students!  
Are you looking for another book to help teach preschool students pragmatic language, go to Amazon and check out Devon Makes a Friend, written by yours truly!
If you are looking for more tips or pragmatic language lesson plans, you might enjoy these posts: