Do you know how to teach conversation skills in speech therapy? You know conversation skills are imperative to lifelong success, but where do you even start? I am here to help! Here are the lesson plans I use when teaching my students conversation skills.
Maybe this conversation looks familiar:
Me: "Hi! Welcome to Speech, I am going to be your speech teacher."
Student: *mumbles incoherent response while avoiding eye contact*
Me: When you come to speech, you are going to be working on goals that will teach you ways to be a better friend.
Student: "I don't have any friends."
Me: That's ok! We have a goal for learning how to make friends! We also have a goal for learning how to have a conversation.
Student: "Oh yeah, I don't know how to do that either."
This is summarized version of an actual conversation I have had with one of my students. (We went into his goals a little bit more in depth, but you get the idea).
Conversation skills…what are they exactly? How do we teach them? More importantly, how do we help our students learn them?
As with all good lessons we start at the bottom of the ladder and scaffold our way up to the top. Our lesson plans for conversation skills in speech therapy are no different…but what is the bottom of the conversation ladder?
Step 1: Teaching the Vocabulary
Since many of my students struggle with language delays and disorders, I always want to make sure they have a nice, firm, grasp of the vocabulary they will need to know in order to be successful with the skill we will be practicing.
When teaching conversation skills, I like to focus on two main vocabulary words: conversation and topic.
I explain to my students that a conversation is what you do when you talk to people and that the topic is what you are talking about. Then, we brain storm all the different topics we could talk about. We identify topics the student likes to talk about and we identify topics that other people might like to talk about. Common topics I like to review are family, friends, games, books, pets, chores, school, recess, etc. I especially want my students to understand that anything ANYONE talks about can be a topic. Keep this list of topics to refer back to as your students learn more conversation skills.
Step 2: Smile and Look
Here is the point where our sweet students learn the first actionable steps to having a conversation: smiling and looking.
Remember, we are starting at the bottom of the ladder and climbing up, so I don't even have my students worry about talking yet.
Smiling and looking is hard enough for many of them. I don't expect them to make eye contact with everyone, but I do encourage them to try and look at the other person's face. I explain that when we do this, it lets the other person know that we are friendly and that we want to talk to him or her.
After we have talked about this skill in the relative safety of the speech room, we walk around the school and practice smiling and looking at everyone we meet. It sounds easy enough, but it often makes my students squirm with discomfort. With each new person we see, I remind my student why this skill is important until the student can repeat it back to me. We try and practice smiling and looking each time we walk together around the building.
Step 3: Asking Questions
Asking a question is a natural way to start a conversation. Typically, we start a conversation by asking "How are you?", so I teach my students this first. Unfortunately, a conversation cannot be maintained on this single question alone, and our little friends need to learn other strategies for developing questions.
Having students initiate a question around a preferred topic, helps them ease into the conversation, but it is also important to explain that they need to ask questions about many different topics. This is where that list of topics from Step 1 comes in handy. Help your students generate different questions they could ask someone about each topic on the list. I also give my students pretend scenarios and have them practice thinking of questions they could ask in each situation.
Our students always need to know why each skill is important, so I make sure they understand that asking questions gives the other person a chance to speak, which makes that person feel good and makes the conversation more interesting for the other person.
Step 4: Find Common Interests
Once our students are proficient at asking questions, they will now have the ability to find common interests with someone. We find common interests by asking questions about many different topics, until we find a topic everyone likes. I try and explain to my students how to tell if someone enjoys the topic or if the topic is not a shared interest.
Why is finding common interests an important piece of the conversation puzzle?
Because, when we find that golden spot where each communicative partner is engaged and interested, the conversation is so much more enjoyable for everyone.
To teach my students how to find common interests, I have them first identify their own interests, then I have them practice asking questions that can help them find out if someone shares their interests. I also talk to them about how shared activities/situations such as the weather and school can be a common interest and can be used to make conversation.
Step 5: Take Turns Talking
I have listened to countless one-sided conversations perseverate on everything from squirrels to video games, and I bet you have too.
While these fixed interests are part of what makes the student unique, they aren't functional because we know that it takes two people to have a conversation. And if one person isn't getting the chance to speak, that isn't really a conversation, is it?
Find a way to remind your students to take turns talking. Teaching your students to respond to a visual or auditory cue might be helpful if your student is struggling in this area.
Step 6: Stay on Topic
As we continue to climb the conversation ladder, our next rung is staying on topic. At this point, our students can (hopefully) ask questions and take turns talking, but if each conversation partner keeps trying to redirect the conversation to a specific topic…well that's going to be a confusing conversation.
Find a cue that can remind your students what the topic is, and a cue to redirect them if they get off topic.
Step 7: Add Comments
This next step is really tricky. It can be extremely difficult for students to generate an appropriate comment, on topic, and insert it in the appropriate place in the conversation. I like to teach my students how use place holder comments such as a head nod, saying "uh huh" or "mmhmmm" to show their communicative partner they are listening. I teach them to listen for natural pauses or breaks in the conversation and insert comments in those places. I explain that adding comments like these lets their partner know they are interested and that they are paying attention.
Step 8: Ending the Conversation
Have you ever had someone literally walk away from you without doing anything to indicate they are leaving the interaction? It is kind of jolting and it is definitely awkward. Knowing how to end a conversation can be really confusing, so it's important that we explicitly teach this skill to our students.
To do this, I explain to my students that just leaving a conversation is not polite…even if they are ready to be done with that conversation. Then I give them a few key phrases that they can use to end a conversation more politely. We also talk about making sure the other person is done talking before we leave the interaction.
Step 9: Practice
We all know that repetition is the key to learning. The more opportunities our students have to practice these skills, the easier and less awkward it will be come. The final step of teaching conversation skills is practice. I like to begin practicing full conversation skills by using conversation prompts in my classroom. I give my students a visual of the steps to having a conversation, and we work through each prompt, making sure we have used each step appropriately. If the student is struggling with a particular prompt, we practice it again until it becomes easier. Then, if it is possible, I like to practice using these skills with familiar people in our environment. This might be peers or other adults who are around us. We then practice and practice some more until the student has met mastery.
Conversation Social Narrative
I have created a "How to Have A Conversation" Social Narrative, that teaches conversation skills using the steps I have outlined above. Each step is explained using simple, easy to understand language so that it can be understood by most learners, even those with language delays or disorders. Each of the steps above has a dedicated page in the story and a companion activity so that students can practice the skill in a structured lesson. There is also an option for the students to draw the pictures for their story. I have found these pictures spark interesting conversations and it also helps the students take more ownership of the story.
I usually spend one session teaching each step. I have found reading the story, doing the activity, and drawing the picture usually takes around 30 minutes. Afterwards, I like to send the activity home for the student to review with his or her caregivers. Once all the steps have been taught, we practice using each step together to try and form a conversation.
If you are interested in learning more about teaching conversation conversation skills in your speech therapy groups, please click the picture below!
If you're interested in upping your pragmatic language therapy/evaluation game then you have come to the right place. Let me share my tips, tricks, and research with you so that you can approach this tricky area with confidence. Click here and we can start learning together--I even want to give you a free pragmatic language evaluation checklist so you can sample my work. If my style isn't your cup of tea, you can unsubscribe at anytime 🙂
If you enjoyed this post, please share one of the images below on Pinterest!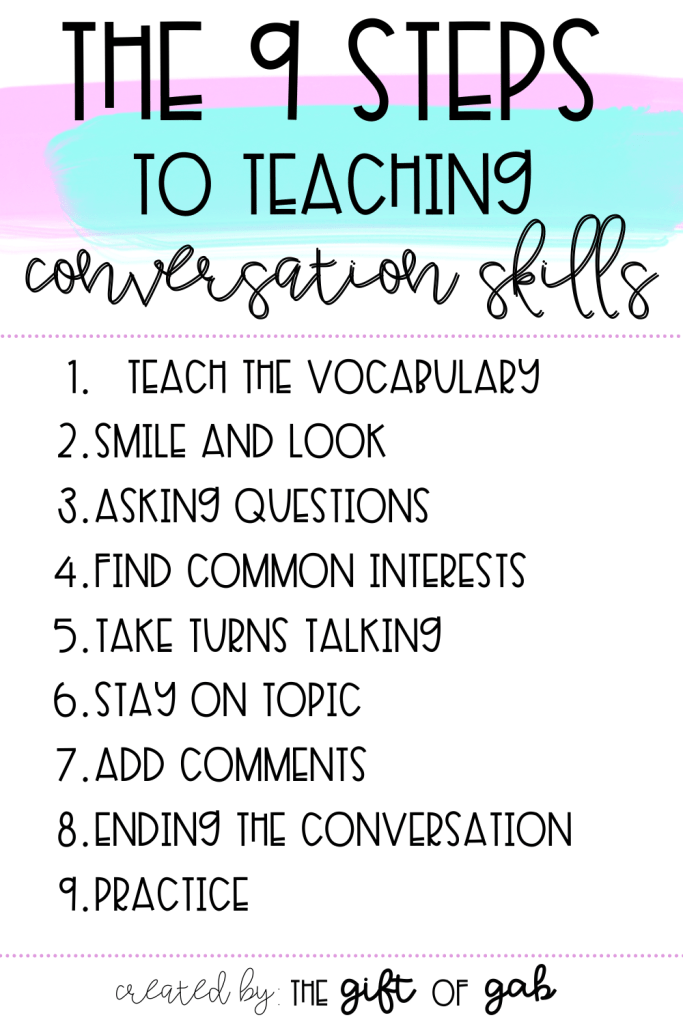 Do you want to learn more social communication tips and tricks? Grab your coffee and start binge reading about teaching affective expression, empathy, and complex emotions!