Have you ever had a student who could nail their sounds in the speech room, but their accuracy plummeted the second they left your room? My theory is that these students struggle because they cannot use their articulation sounds in unstructured conversations.
What do I mean by unstructured conversation? Think about a traditional articulation hierarchy. At the bottom, we begin by making the sound in isolation, and at the top, we have using the sound in conversation. In my opinion, there are actually two levels of conversation: structured conversation (which is easier), and unstructured conversation (which is trickier).
When your students come to the speech room, they have a lot of cues that help them remember to use proper articulation during the conversation. First of all, they have you, their wonderful speech teacher! Just seeing you helps them remember "Oh yeah, I need to slow down and remember to use my sounds." In addition to that, you might also be giving them verbal reminders to monitor their speech. You might also be working on articulation in conversation by having the student answer direct questions. These are all ways that we structure a conversation.
The conversation becomes unstructured when the student is in a setting that doesn't innately remind them to use his/her "good speech". Examples of this would be when the student is at home, playing with friends, or at extracurricular activities. They are just talking using their normal, natural speech.
Sometimes, getting that "good" articulation to carry over into these unstructured conversations is extremely tricky.
Here are a few activities you can use to help articulation students carry over their skills from structured conversations to unstructured conversations.
Explain data to your student and have him/her start taking their own data.
Explain the difference between structured and unstructured conversation and discuss why unstructured conversation is trickier
Write a letter to parents and teachers explaining ways they can help the student outside of the speech room
Make a list of people and places that are easy and hard to use "good" speech with
Make a turtle bracelet to give students a visual reminder to work on this skill when they aren't in the speech room
Does this sound like a good plan to you? I hope so because I have already created these worksheets based on these activities and I am using them with my students!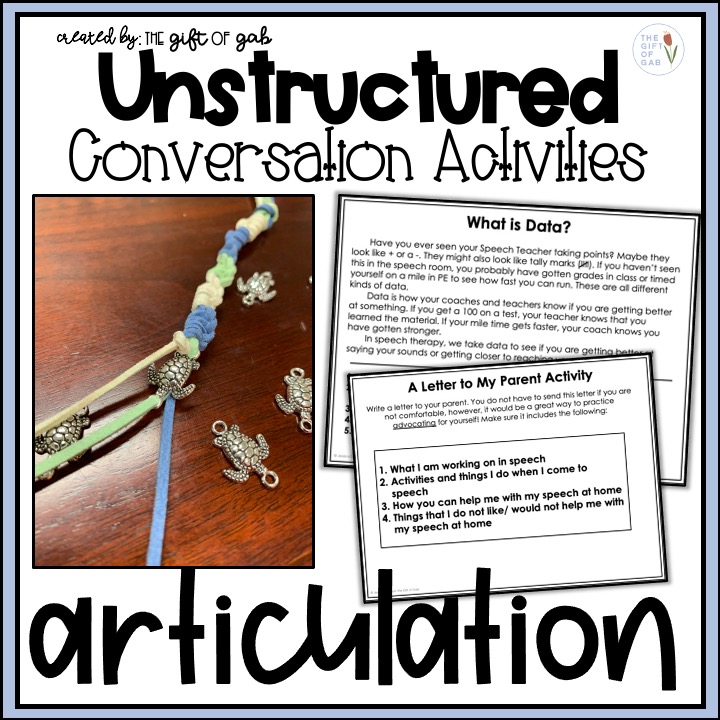 Looking for more articulation activities? You will love these reading passages that were created to help you support students moving from sentences into conversation!