If you are here, you are searching for some summer articulation activities. I am guessing you are an SLP who is working during the summer. But I suppose you might also be a parent looking for some activities to keep your child practicing through the summer. Either way, I think you will love these summer-themed articulation reading passages!
What is so great about these reading passages? I am so glad you asked!
First, I worked my booty off making sure these articulation reading passages were absolutely perfect. They target the later developing sounds, making them perfect for about 2nd grade up. Maybe even first grade if you have a really strong reader!
Second, each passage is crammed full of target words for each sound. I spent hours combing word lists and wracking my brain so you get all of the practice with none of the work!
Finally, there are prompts and questions on the side of the page to help you know exactly how to use these passages. The prompts also make it super easy for parents to use these reading passages at home.
Oh, and one more thing! If you happen to be an SLP working with mixed groups in the summer, these passages are also great for targeting reading, vocabulary, and language skills. So basically, all you have to do is print and go!
Now you are dying to know how these articulation reading passages work, right? Let me tell you!
Choose the sound/sounds your student is working on. Print off that page.
Read the passage to your student(s). Have your students highlight each word they hear that has their target sound. This is great for practicing auditory discrimination.
Have your students practice saying those target words they just highlighted.
Now, help your students read the passage. Again, pay attention to those target words!
Flip the paper over. Listen to your students retell the story from memory. Make sure they are still using those target sounds correctly!
Answer the prompts/questions on the side of the page. This helps your student practice using his/her sound at the conversation level.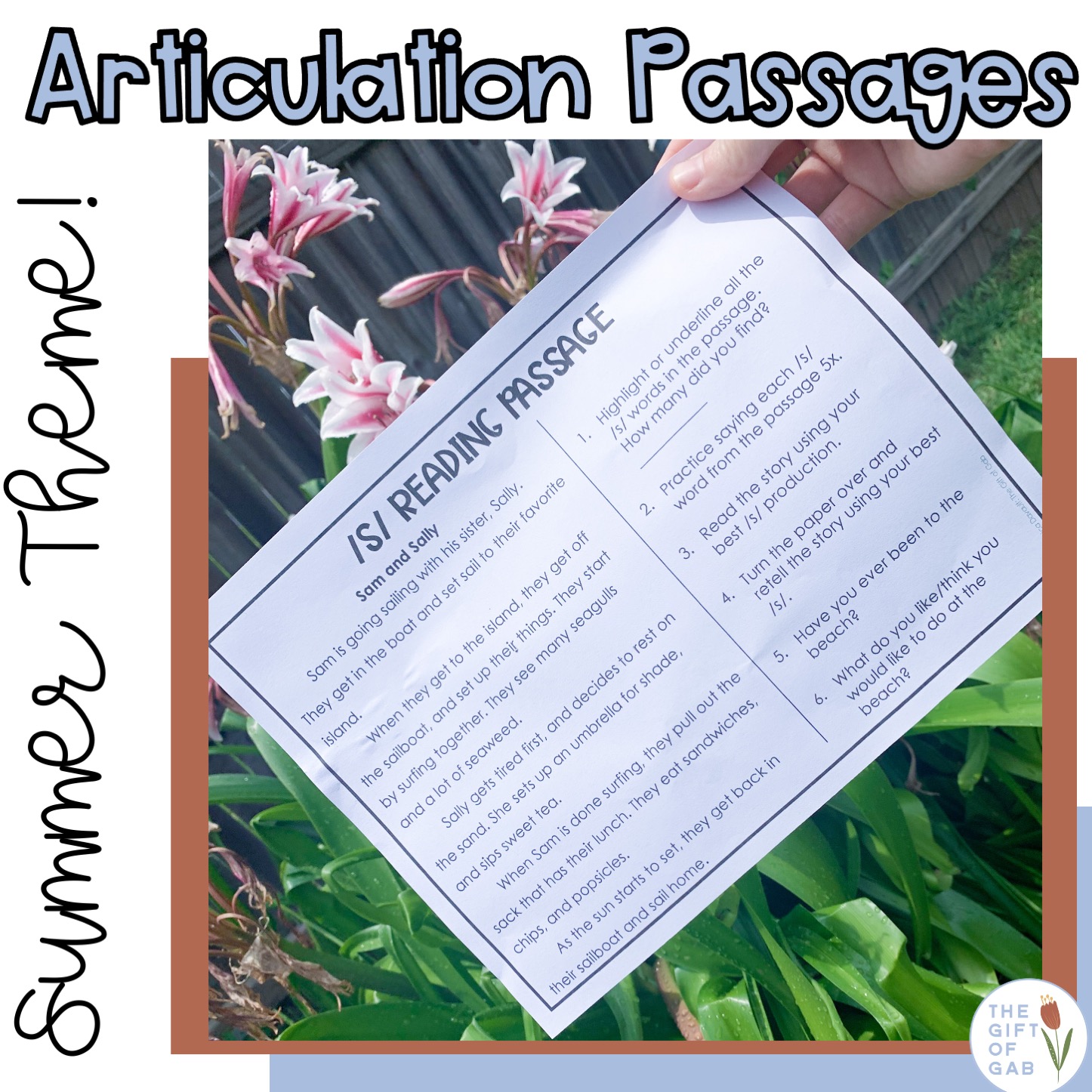 Were you able to spot my strategy? Can you see how each step builds on itself so that your student is slowly increasing the difficulty of the task at hand? Like I said, every inch of these summer articulation activities was thought out with love and care.
If you already have my original articulation reading passages, these follow the same concept. The only difference is that there is only one reading passage per sound and each passage was written with a fun summer theme. If you love this idea, you can also grab the bundle. The bundle has the original passages, summer-themed, and fall-themed passages at a reduced price!