Pretend you are the parent or teacher of a teenager with Autism or a Social Language Disorder. Your teenager comes up to you one day and says "Guess what? I am dating someone!" Let's talk about the most important dating skills for students with Autism.
If this is you, please keep reading! I want to share a few tips and friendly reminders for parents and teachers who are getting ready to start teaching their students with Autism or Social Language Disorders about safely dating.
Dating and relationships are terrifying topics for any parent, but I would imagine it is especially nerve wracking for parents of students with social language difficulties. At the time this blog post is being written, there are no studies that specifically analyze the correlation between Autism and sexual abuse. HOWEVER, there is a study that indicates that a child with any type of intellectual disability was four times more likely to be sexually abused than a child without disabilities (Sullivan & Knutson, 2000). Yikes.
Indulge me for a second and think about your first boyfriend or girlfriend.
I met my first boyfriend when I was 13 years old. We were on the swim team together. One day after practice, I mustered up the nerve to give him my home phone number (because 8th graders didn't have cell phones back then). We dated for about a year, but like most middle school flings, it didn't last forever. After that, I dated a few guys here and there until I met and married my husband when I was 23.
What do you remember from the dating process? Sure, I remember a lot of fun times, but I also remember a lot of uncertainty, fear, anxiety, anger, and sadness. I especially remember being confused…does he like me? Should I kiss him? Do I need to break up with him? How far is "too far"?
Now, I am relatively socially adept. I am pretty good at interpreting and using nonverbal communication. I understand the social norms that surround dating, but navigating this social routine still made anxious! Did you feel this way too?
If you and I both felt this way, imagine how our students who struggle to understand social communication feel!
That is why we need to work with their caregivers to strategically teach them about this process!
Here is what I would do. Begin by TEACHING the student the most important dating skills. Explain why we date and break down the dating process into the following easy to understand steps.
1.) You Like Someone
2.) You Ask Them Out on A Date
3.) You are Dating
4.) You Keep Dating…or You Break Up
5.) Be Patient and Keep Trying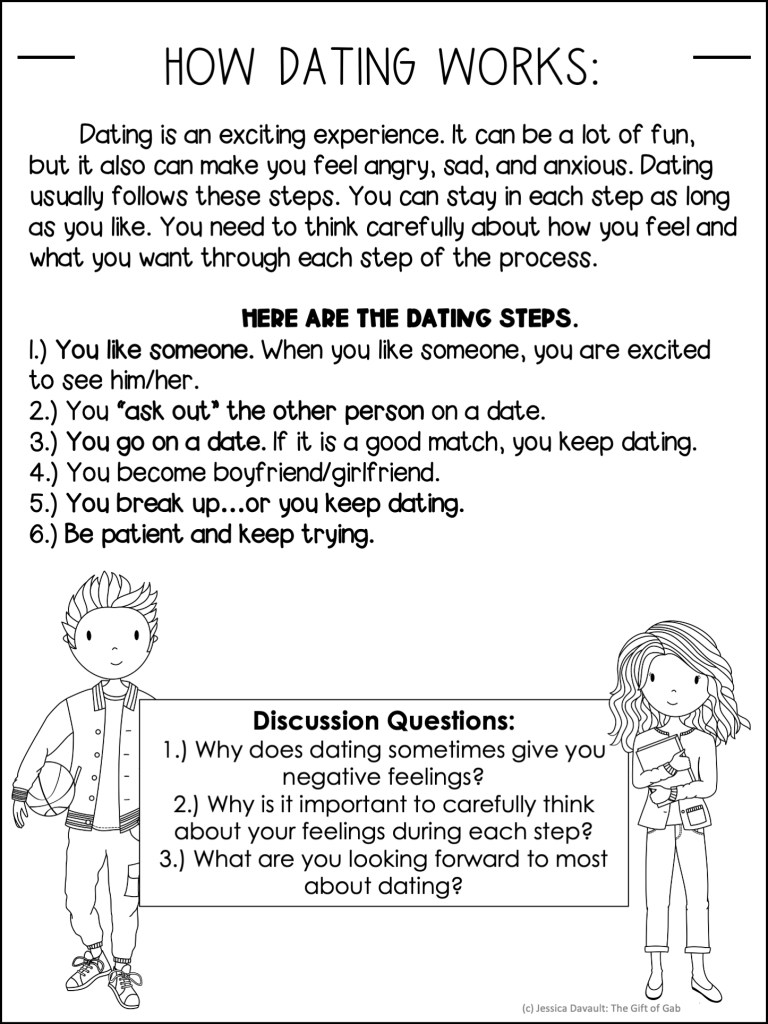 A few more important dating skills for students with Autism to keep in mind…
Now, you and I both know that dating is tricky, so, it is important to not shy away from the fact that your student will probably face some rejection. Make sure you talk about ways to avoid rejection (hello, understanding nonverbal communication). Also, make sure you talk about what to do if they are rejected or if someone breaks up with him/her. I know it is unpleasant, but your student deserves to have a plan in place if he/she needs it.
Healthy and unhealthy relationships. Does your student understand this concept? If not, then you need to teach it. Make sure your student knows the signs of healthy and unhealthy relationships…and what to do if they are in an unhealthy relationship. (i.e. break up, talk to a trusted adult, etc.)
ONE MORE SUPER IMPORTANT THING
Talk about physical touch. If you are a caregiver, I strongly, strongly, encourage you to just dive into this topic. Yes, it will be extremely awkward-I'm sorry. But open communication could prevent your child from being abused or put in a dangerous situation. If you are a teacher or therapist of some sort, well you probably can't go as in depth, but you CAN make sure your student knows that they don't have to do ANYTHING that makes them uncomfortable.
Do you know a student or teenager who could benefit from discussing dating and relationships? Are you uncertain about what to say or how to approach this topic? I can help!
I created this teaching guide on dating and relationships. It introduces dating, why we date, and it breaks down the process of dating into manageable steps. But the best part is that it also gives you discussion questions and activities that will help your student make a plan to be a safe and successful dater!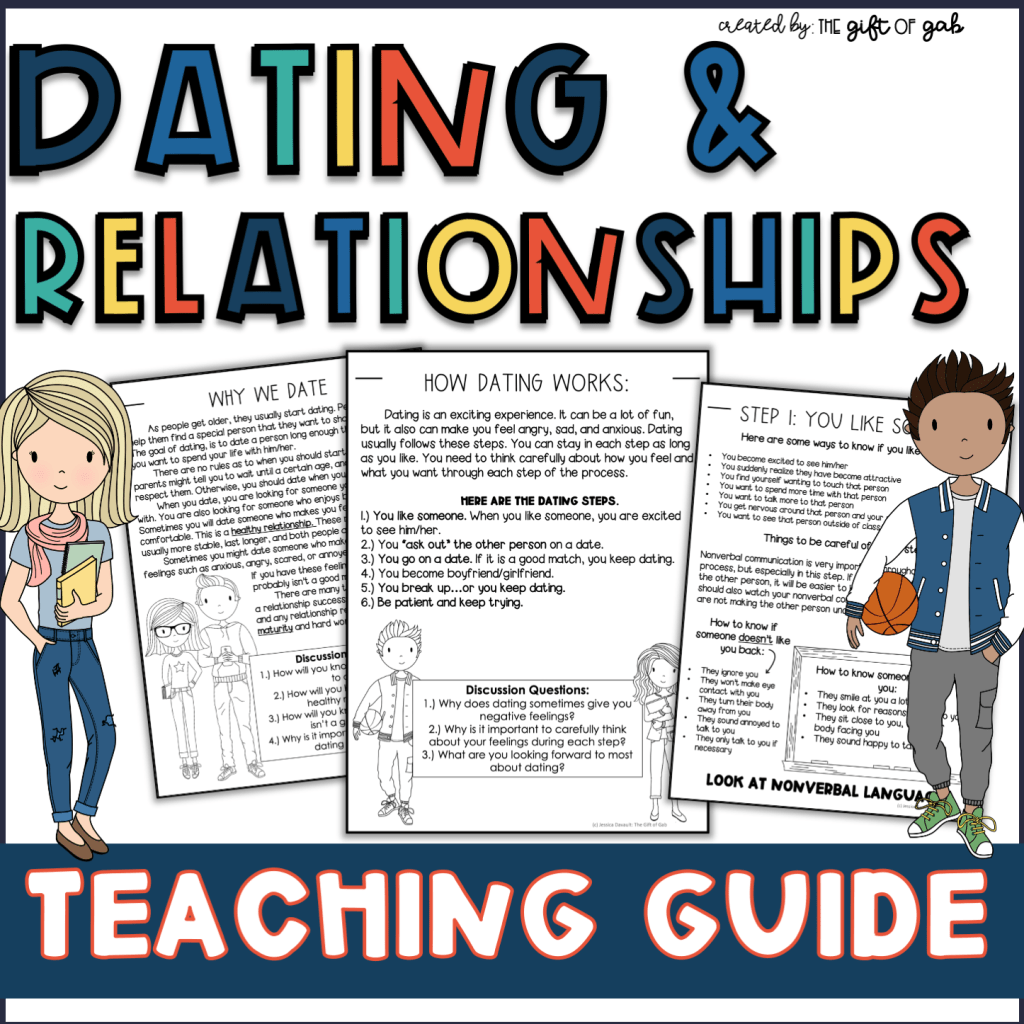 If you are interested in some more books about dating and autism for teenagers, check out The Guide to Dating for Teenagers With Aspergers Syndrome, by Jeannie Uhlenkamp!